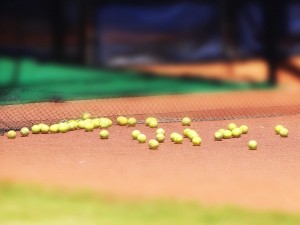 It depends on the current reality – what's working and why you think you might be falling short.
I was listening to pundits explain why Andy Murray might struggle to become the world's number one tennis player and consistently beat the other three players in the category they call 'the big four'.
They used to say it was down to a lack of physical fitness; that his legs went during tough five set matches. He has certainly addressed that point and is now renowned for being one of the fittest men on tour.
Then a lot was said about his mental toughness; his self-flagellation on court and his habit of berating his team. This behaviour used to give opponents a psychological edge; he wasted a lot of energy that way and it was felt he needed to learn to be much more self-contained and to keep his emotions under wraps. Whilst he does still do some muttering he is noticeably calmer of late. In fact, I noticed that the current world number one was much more agitated in their most recent encounter (which Murray won for once).
The latest argument put forward for his failure to beat the worlds best – consistently anyway – is a weak second serve which was imminently attackable. This put pressure on his first serve because when he missed, opponents were confident in their ability to get their racket on the ball from his second serve, regardless of how clever his tactics were.
Murray is enjoying his best ever season on clay and is seeded number two for the first time in this year's French Open. The reason is a dramatically improved second serve; which is now consistently faster and harder than before and has become a strength rather than a weakness.
It was interesting to hear how he has achieved such a marked improvement. Murray explained that typically, at the top level of the game, you focus on tactics – understanding the opponent's game, learning to read them and picking out areas where you can influence the match.
On this occasion Murray decided to go back to basics and look at the technical side of his serve. Apparently he spoke to the coaches of some junior players as well as conducting his own research on the technical elements of serving.
I'm continually impressed by his levels of persistence and his continual endeavour to reach the top of his profession. He could be forgiven for thinking that the current world number one is a freak of nature and settle for second best; which of course is no mean feat. But no, he is continually looking for ways to improve and it's a reminder for us lesser mortals that resting on your laurels is not an option; not if you have lofty ambitions anyway.
So, the takeaway is to maintain a constant focus on improving things, however small and to remember that it's often the tiniest of tweaks that have the biggest impact further down the line.
This week's link is to Executive Coaching for those of you looking for a competitive edge.