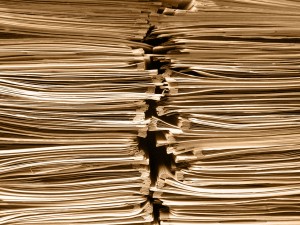 Having spent much of the past week designing a new product I've been mindful of all those smaller jobs winking at me from the sidelines.
When I look closer I can see that all the important tasks have been completed; it's mostly the follow up actions and administrative elements that are outstanding.
And yet these 'piles', however tidy, still look like clutter to me and I know they are a distraction; however fleetingly I pay them conscious attention.
It takes time to work through a pile of paper; to sort, hole punch and file or to remove staples and shred. And so the piles remain for that bit longer, each growing by a couple of millimeters week on week.
I could ask my colleague to do it and she would be happy to oblige; except she already has enough sorting of her own to do and is of great value to me in many other ways.
Don't misunderstand me, I'm an organised person and I can lay my hand immediately on a specific document when asked. More than that, I deliberately refrain from filing papers until I've finished working on a project; not least because most of the 'work in progress' is ultimately discarded anyway.
This is a short-term problem – or a long-term problem that I haven't previously found an answer to, depending upon how you look at it. The crux of the issue is that with so many interesting and enjoyable business projects ongoing at the moment, I'm just not in a position to make 'filing' a priority. And when I do, I'm intending to shred most of it anyway as I work towards a paperless office.
So, I've found an interim solution: plastic A4 boxes that are designed to hold loose papers and wallets – genius. When they arrive I can simply lift up a pile of paper, pop it in a box closed tightly shut, label it and stand it neatly on a book shelf. And they come in different colours too so I won't even have to look at the label to know which box contains the documents I need.
I feel better already. I can see in my mind's eye a clear office floor and neatly stacked shelves (only one deep of course) that gets smaller over time rather than bigger. These box files are light to the touch as they only contain the current working papers of live projects. The rest of the files are relatively thin and most are archived in a locked cupboard out of sight altogether.
How good does that feel…Who needs therapy?