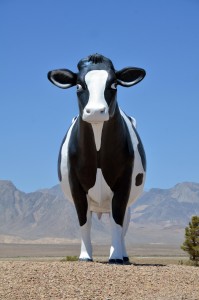 Reading is good; it feeds the soul. I've determined to do way more of it this year; I even compiled a book list. This incurred no expense whatsoever; I have to hand a vast array of books that had once fuelled enough interest for me to purchase them.
Through a stroke of genius my quota has received a boost; my colleague has created a book list too! Of course, her list is totally different from mine as we have different interests and objectives for the year ahead.
The added value is in sharing our book summaries as we go along. So, I now have a good feel for Seth Godin's book "Purple Cow" without having had to buy or read it myself – result!
It's based on the premise that we are used to seeing cows grazing in fields; that's common place. Now, if we were to spot a purple cow stood in a field amongst the black and white ones we would think that remarkable – worthy of mention.
Certainly the multi-coloured plastic cows, which suddenly appeared across Manchester City centre a few years ago, raised a few eyebrows initially; until they became commonplace. A few are still there, periodically moving position.
The author suggests that we have to do something 'wildly different' in order to get the attention of a small percentage of the market. He says this isn't some kind of marketing gimmick – and yet it sounds gimmicky to me; especially if it were inauthentic in its execution. I think we'd have to be careful, that in trying to be clever, our focus doesn't shift from trying to create an amazing customer experience.
I do agree that we need to nail our colours to the mast and decide what we want people to say about us. I don't know about you; I wouldn't want to become a celebrity because I was filmed watching TV!
I'd like to think there are other things worth mentioning.
Marketers say that it isn't just about getting attention – doing something remarkable enough to turn heads. It's what you do once you have the attention that counts.
So, if you're going to do something 'wildly remarkable' make sure there's a backup plan for when people take notice!
This week's link is to a page on I.N.S.P.I.R.I.N.G for those who want to take control of their Personal Brand.