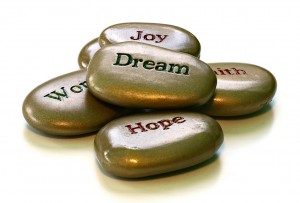 There's an expression I like which is that 'Goals are dreams with legs'. When I hear it I imagine taking something passive (an idea, a thought, an image) and turning it into something active which gathers pace and builds momentum as you move energetically towards your intended outcome.
Let's be honest, going after a dream takes a tremendous amount of work and dedication. It's much easier to fantasize about what could be rather than clarify it and turn it into a tangible goal. That's why, in many cases dreams remain exactly that.
And yet, when you start to clarify what, specifically, you are dreaming of having, doing or even being; and you give it some definition, then you may find that your dream takes on a life of its own.
So, does it matter whether you dream big or small? Some advocate caution when it comes to long-term dreams; saying that it's better to be micro-ambitious and focus on whatever is in front of you. Others advocate a 3 year, 7 year and even 10 year plan which are arbitrarily chosen numbers.
The solution is to balance the two. Breathe life into your dreams by clearly defining them and develop your evidence criteria so you'll know when they're yours. Then focus on the pursuit of your short-term goals. These will 'feel' achievable and related activities will ultimately lead you to the realisation of your long-term dreams, step-by-step-by-step.
You don't have to have a dream and I'd highly recommend it. Why, because it stretches us, keeps us on our toes and motivates us to do better every day.
Sweet dreams…