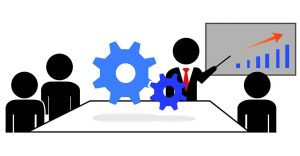 Without doubt, change is happening constantly. If you want to make progress as a business owner, then you need to be change-ready. Only then can you respond appropriately to the evolving needs of your stakeholders. And of course, the fluid environment we're operating within.
To do that you need to know where the past year has fallen short of your expectations. And have an awareness of how to plug those gaps.
Here are 5 pointers to help you. You can use these as benchmarks to measure progress against expectations. Particularly as one year ends and another begins.
5 pointers that can help you make progress
Challenge the factors that have led to your success to date: what worked initially may no longer be relevant, particularly with fluctuating market demands and changing times

Identify what you're best at: endeavour to deliver that to the same high standard, time and time again. Find a way to delegate or simplify the rest

Develop a clear picture of success: once you know what the destination goal looks like, set your long-term goals in support of this

Understand and effectively communicate what you're selling: this is work in progress and that's okay. Use customer feedback to recognise whether your target audience is connecting with what you're saying

Run a tight ship: To serve your customers well, you have to focus on quality, delivery, follow through, and follow-up. Determine how many you can service whilst maintaining your standards – and their expectations – and don't step over that threshold
Make progress management a regular exercise
Measuring your progress as a business owner needs to be a regular exercise. And reviewing these 5 core areas, year-on-year will help your business to grow and improve.
Even better, you could choose one item quarterly and take stock of your progress in that area to date. That would enable you to nip any oversights in the bud. And steer you back on track if you find yourself wandering.
To grow your business means actively working on it. And that includes staying prepared for change. When you master that you'll find you can meet new business challenges head-on. Furthermore, you can be reassured in the knowledge that you're doing the right thing.