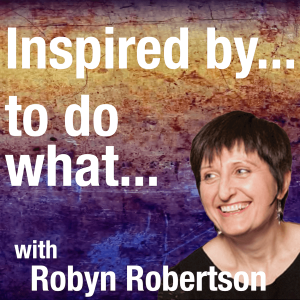 I have found inspiration in many a rousing speech; resulting in a form of escapism.
The speaker has lifted me out of the day-to-day and transported me into a world of possibility and hope.
Typically, motivational speakers share a life changing event; an insurmountable challenge that has triggered an awakening of some kind; resulting in a change of direction. Against all the odds they have overcome a debilitating sporting injury, for example; and gone on to win Olympic Gold. Or they've almost died, several times over, on their way to conquering the North Pole!
The inspiration wanes for me when their story loses touch with my reality. When I find myself thinking 'that's a great story' to which I can no longer relate. Few of us will ever have the inspiration to climb the North Pole. Indeed, we might fancy winning Olympic Gold; and there's likely to be an underlying motivation for something else, that's fuelling the desire.
 I have the Inspiration. So What?
Finding the inspiration is a great start. To begin with it gets our creative juices flowing. In addition, what really helps is a relatable story. Beyond the idea, it transports us into a sphere of possibility.
There's no doubting that when we experience a significant emotional event; that often provides the stimulus for change. Coupled with that, what if the inspiration comes from a relatable source? Imagine what's possible then!
So, I've decided to host a podcast series of interviews called 'Inspired by… to do What…
It's an opportunity to hear from a broad cross-section of business leaders, just like you. Individuals who have had the inspiration to change things up in some way; or even make a fundamental life change, at some point in their career. Like you, these are real people with 'whole lives' – all on a mission to make a meaningful contribution; within their area of influence. During the interview, they will share the source of their inspiration; and as a consequence, what that inspired them to do.
What they all have in common is their position of responsibility. Every guest will be the CEO, MD or owner of a growth minded multi-million-pound turnover business. To the outside world they would be considered successful.
What I'm interested in here, is where they've been inspired to do something new or indeed do the usual things differently. As a result, I'm interested to know how they have changed as a business leader.
Inspiration in the Form of a Podcast
To that end, the first podcast is now LIVE!
It features Dr Jill Harrison; the founding member of the first Peer Advisory Group I established for CEOs, MDs and Business Owners, at the centre of the Northern Powerhouse.
Jill brings her broad experience and wisdom to this pilot podcast; of what it's like to be CEO of a successful business; Mum to 4 kids; all whilst learning to manage physical health challenges that are with her for life. You can listen to her story here.