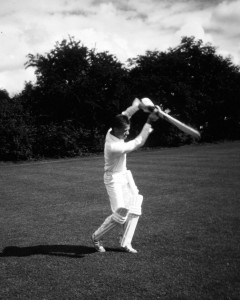 A colleague recently commented that it's the people you're with, rather than the activity you're engaged in, that's important. This statement came back to me yesterday whilst I was spending the day with friends at Old Trafford.
Now Cricket isn't a sport I particularly enjoy and you certainly wouldn't find me camped out in front of the TV for a 5-day test match. Even for a 1-day international, I would do no more than clock the score in passing.
Nevertheless, I went with friends to watch England pay India in the first day of their third test match and was pleasantly surprised by how much fun it was. The fact that England bowled out India for 152, with two hours still to play was a bonus and meant we saw them perform with bat and ball.
By far the most enjoyable aspect of the day was spending that time in great company, with good conversation as well as plenty of banter between the fans. Sat right behind the boundary (another bonus) we had a group of supporters next to us who, having draped the Indian flag over the barrier, were vociferous in support of their national team.
Considering the number of England fans surrounding them I did wonder whether that was a sensible thing to do. And yet it would appear that Cricket is one of a minority of sports where, supporters of opposing teams can sit together quite amicably. In fact, that healthy banter added to the fun of the day.
There are plenty of experiences I've enjoyed that I'm unlikely to repeat; not least because there are so many other new ones waiting to be had. Whilst test cricket may have been a one-time event for me, it provided the backdrop for something far more valuable.
It enabled me to enjoy some prolonged downtime in the company of my friends; quality time that allows us to deepen those relationships. Maybe that's why so many people 'do business' on the golf course?!
What opportunities do you create to build on relationships, both at home and at work?